Hello! I hope that this posts finds all of you readers well and blessed. I think that I am going to abandon this whole episode by episode idea and just catch you all up to the present with this post. I want to be able to write about the interesting -- or maybe not so interesting -- things that happen around here... as it is I feel like every time I sit down to write I am only able to make a tiny dent in the ever-growing stack of things I want to tell you all about.
So, my plan is to tell it all to you in the "nutshell version"... you'll probably like it better that way anyhow ;) !
The last post I wrote told you all about the mission team that came down to build our house. Pretty much directly after that team left we ourselves left on our biannual furlough to the States. SURPRISE! I am sure that most of you knew this either from the letter I sent out or facebook or perhaps seeing us while we were there. For those of you who totally missed this event... I am deeply sorry! I will do a better job of announcing it next time!
The trip went awesome. God did some amazing and "ground shaking" -- at least for me -- things while we were there. I met some awesome people and got to hang out with awesome people I already knew. God was just all around good to me the whole time! I don't even know where to start sharing... I suppose I will try to hit some highlights.
This trip we were able to make it all the way up to Oregon. I nearly froze to death, I'll tell ya, but I had a nice visit and from talking to a friend there who grew up in Mongolia, I just don't think I have much to complain about!
In California we stayed for two weeks with my Dad's parents. They have a huge park right next to their house and we (the kids) had a great time riding around the trails on our new bikes. Oh yeah, forgot to mention that; God provided bikes for all of us. They aren't new, but they are really nice quality and in good shape. We got the added blessing of each of us being able to pick out our own bikes so we all got the exact one we wanted... God is so awesome! They really are such a ministry asset in that we can use them to go back and forth to the church without using the van. I am so excited!
Anyway, we also got to enjoy the library a few blocks down from my grandparents house. As seldom as we have the chance to visit libraries now it was a real treat. I probably read a lot more those two weeks than the whole year before!
Another cool States-side experience was driving on a four-lane divided highway in traffic with a full trailer in tow. It was actually a lot of fun... but a little tiny bit nerve-racking at times! I didn't do anything that was that illegal... other than going through a rather yellow light (though I still argue that it was green) and pulling what my Mom called a "California stop" and then once accidentally passing on the right... got a bit of a lecture for that one. We live and we learn, right? ;)
In Tucson we were in for yet another proof of the greatness of the God we serve. Sometime earlier on our trip I had been strongly convinced that God was going to be providing a new van for us before we left the States (ours was about on its last leg). Still, the whole trip sped by and before we knew it we were a week and a half from leaving and still no van in sight. God, however, had everything in His hands and through various circumstances, which I won't go into for the sake of time, He put it on the heart of the pastor of our supporting church in Tucson to buy us a new vehicle. Wow! After that everything fell into place, from finding the right vehicle to getting it shipshape and ready for travel. I know that this is something so small among the things God can do... but it just serves to me as another reminder of how amazing is my Lord! Praise His name!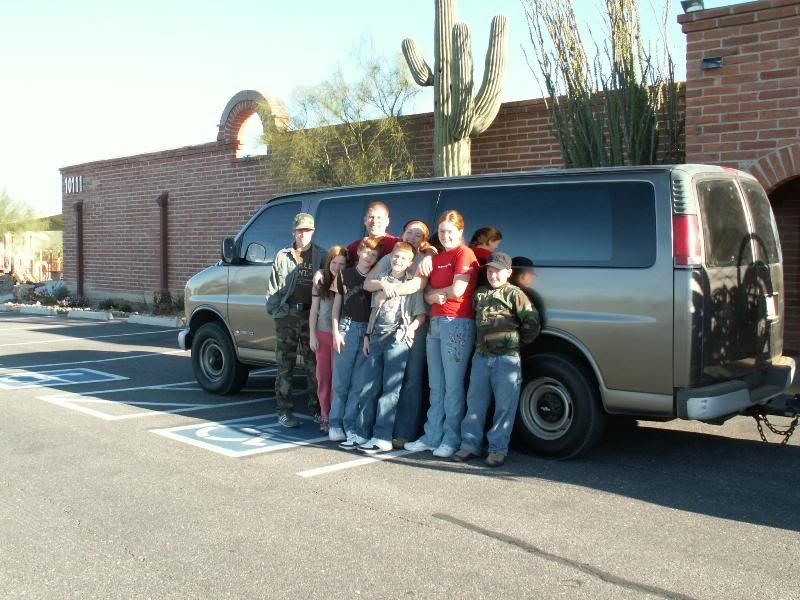 Another highlight in Tucson was that my Mom's parents came out from Kansas so we got to visit with them for a week. I don't know when the last time was that we had the opportunity to see both of my grandparents in one trip! The twins turned 14 while we were with them so they got the royal treatment for the day and we (well, I mean my grandparents ;) ) took them out bowling and then to the restaurant of their choice -- which ended up being an all-you-can-eat buffet. I'd say that for them, though, the highlight of the day was the new Bibles they were given. It extra cool in that they weren't just given Bibles but rather we taken to the bookstore and allowed to pick out the Bible they each wanted. I was really blessed to see the look on their faces when they brought the Bibles home... So awesome!
The trip home was long and long and, well, long. We got out of Tucson a lot later than we had planned and even though the border crossing went smoothly we were still about 5 hours later than we had hoped. What with stopping periodically to water down the tires on the trailer and to clean up nail polish off the back seat -- that was Andrew and Evie, though quite accidental -- and to stretch our legs daylight flew by and, before we knew it, the sun was gone. After discussing it a bit my parents decided that it would be best to spend the night at a hotel in Obregon (about six hours North of where we live) since they were really tired and it was pretty late.
So, we did. The next morning we were off and homeward bound! We pulled in at our house around 4 o'clock p.m. I was so excited to be home! Albeit that the house was in disarray because of the construction and we had a million and a half things to do before Semana Santa (Easter week) and the arrival of a team of Americans from CA.
Alright, I feel a little less overwhelmed now! I will be back soon to get myself the rest of the way caught up!
Blessings to you all! Here's my verse for the week!
2 Timothy 1:12


For this reason I also suffer these things, but I am not ashamed; for I know whom I have believed and I am convinced that He is able to guard what I have entrusted to Him until that day.