And now for the update that I had hoped to post about a month ago.... I promise that I really had every intention of doing it, but what with internet issues at our house and the impossibility of uploading pictures on our slow connection it just got put off. So, let's see what I can get you all caught up on!
In the middle of March of this year when we arrived home from our furlough our house was not in the most beautiful shape it has ever been! We took the first three of four days to get settled in and then it was time to get to work. The first order of business after moving all of the stuff upstairs (sorry, all of us were so involved in moving stuff that we didn't get any pictures. Just try to imagine taking the fullest shelf in your house and dumping it's contents on the floor. That's pretty much what our house looked like) was the construct our new stairs. It was tricky business getting the design all set, but once my mom and dad had figured that part out it was "full steam ahead" for my dad. I think that all of us (the kids) were involved in some way in the process of making the stairs. I had the "opportunity" ;) to paint the stairs --both wood and metal -- and to help my dad install the steps. Needless to say, I now have a much better understanding of how to build a stairway!
This is the stair we had before building the permanent one. I grew to despise that stair after having gone up it more times that than I could count and tripping down it more than twice (that was definitely no fun). I was heartily glad to see it go!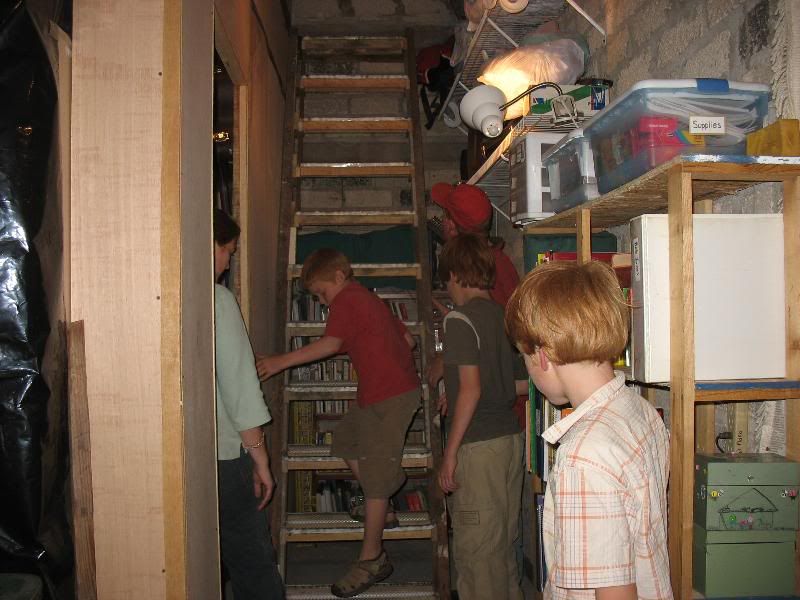 Installing the stair!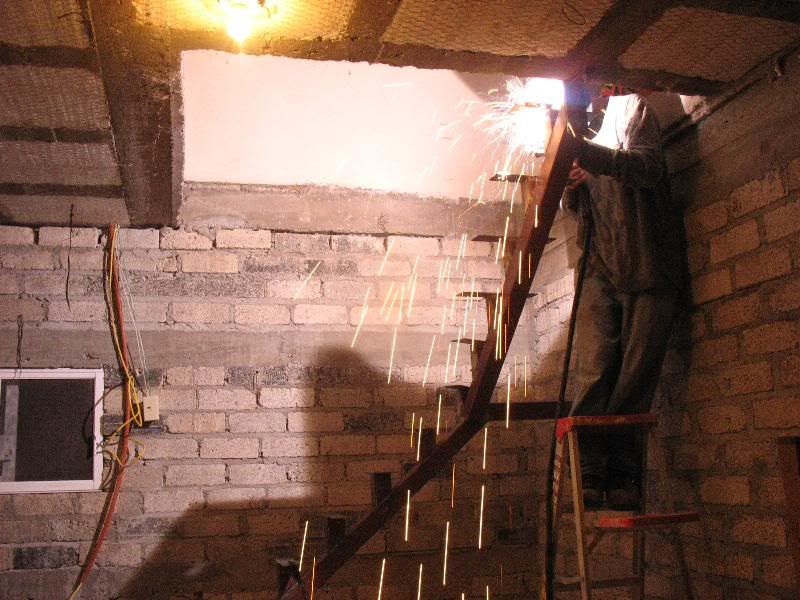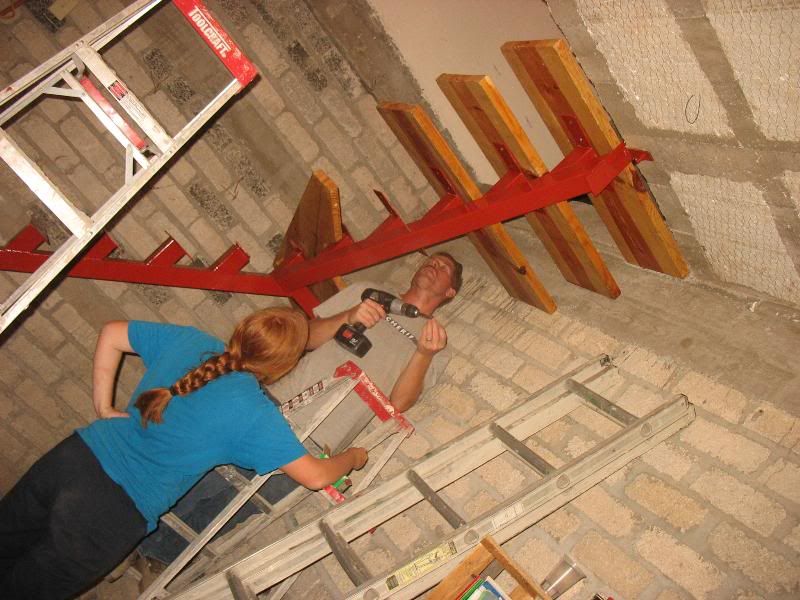 I was a little bit overwhelmed at first and thought that we would never be able to get everything we needed to do done. That's one of my faults, I suppose. I have a hard time looking at a huge project at the start and not getting frustrated. Once I am into the work I don't notice... it's just the getting started that gets me! That's probably why I make a good team with my dad; he doesn't even seem to notice the present state of things, just the goal in mind!
Another large project that has been on hold for about a year is my mom's outdoor kitchen. Both my mother and I have been wanting to have a kitchen outside since the very first Summer we spent here. It just gets so hot here during the summertime that the last thing you want to do is heat up the house by cooking. The first step we took in that direction was to build our outdoor oven and now, a year later, my dad was finally able to add the counter, barbecue grill and "hornillo" (pronounced "orniyo" and meaning literally "little oven". Here we use it to cook things like Tamales or large pots of stew that wouldn't fit on the stove-top)!
Already we have used the kitchen to fry hotdogs, cook clams and oysters, make granola and bread and tomorrow we have planned to barbecue some meat we have in the freezer! God is so good in blessing us even in these small things!
Alright, next post I will post a bunch of pictures of our house in it's present state and then I am going to call myself "caught-up" and we are going to forget all the stuff I missed!
Blessings to you, friends! I hope that you are blessed this day to overflowing! Here's something that I have found to be challenging in my life recently. I suppose that I struggle quite often with worrying in different ways. Maybe I'm not worried about what I am going to eat, but perhaps I am worried or frustrated by all the things I have to do. Whatever it is, this verse covers it all...
Matthew 6:31-34


"Do not worry then, saying, 'What will we eat?' or 'What will we drink?' or 'What will we wear for clothing?' For the Gentiles eagerly seek all these things; for your heavenly Father knows that you need all these things.

But seek first His kingdom and His righteousness, and all these things will be added to you.

So do not worry about tomorrow; for tomorrow will care for itself. Each day has enough trouble of its own."