Hello, everyone!! I am sorry that I have been out of contact for a bit, duty called!! I can't always live on my blog, I have to fulfill my responsibilities in everyday life as well. I tell my Mom that with all the things I have to get done on the computer every day I could spend all day typing and still not finish!!
To all of my Blogger buddies, I will try and get back to your comments. I do still love you guys!!
Life has been busy this past week. Final exams are coming up on French and I am in a frenzy to be as prepared as I can. I can't believe that it's already the 11th. Where did this year go??!!
I have been horrid sick all week. I suppose it was good to get it out of the way now so as not to get it later, but NO FUN!! It's like one of those colds that gets you and just gets worse and worse. For me this is the worst kind because I can't sing with a sore throat and I basically live by singing all the time!! That might sound like an over-exaggeration, but it is true.
This past week we have also been working on our house. I know, I know, Christmas-time is not usually when you tear your house apart, but someone sent us a gift and we wanted to put it to use. I can't wait for the project to be finished, it will look so nice!! When I can get the pictures uploaded onto the computer I will publish a few in a post.
So, for now I have decided to just post some pictures. I know it has been awhile since I've done so. Sorry, flakiness on my part, but this wrong can be righted. Here ya go!!
These are some wonderful cows that I made for a friend. She is going to put them on her front gates. Now, I personally don't like cows very much, but I think that these are cute-- that doesn't mean that I would put them on my gates!!!
This is called "Sarah didn't realize the paint was oil-based so she tried to scrub out the paint pan with her hands". You think that this is bad? You should have seen my hands half an hour before the picture was taken. Yikes!!
Have you ever had one of those kind of days?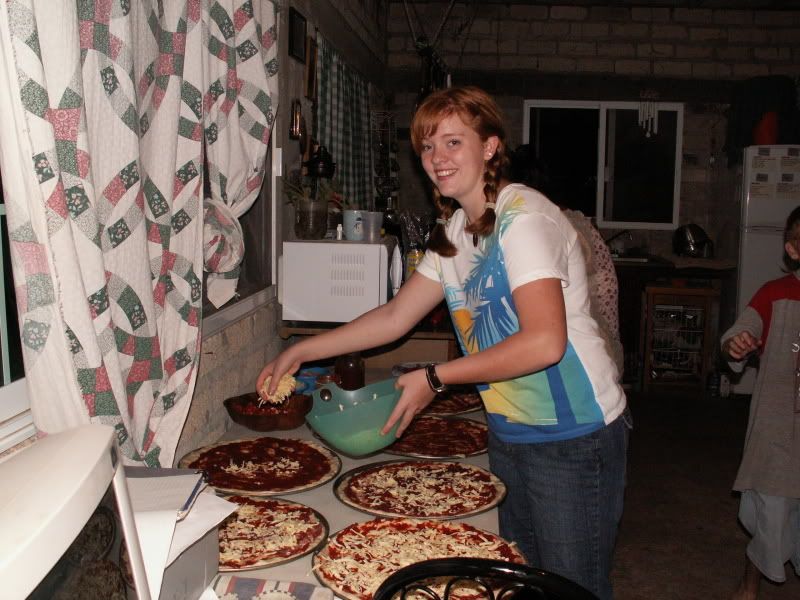 Pizza time!! This is Mom's and my specialty. Yummm!!!! If you come down and visit us I'll even make some special for you, deal?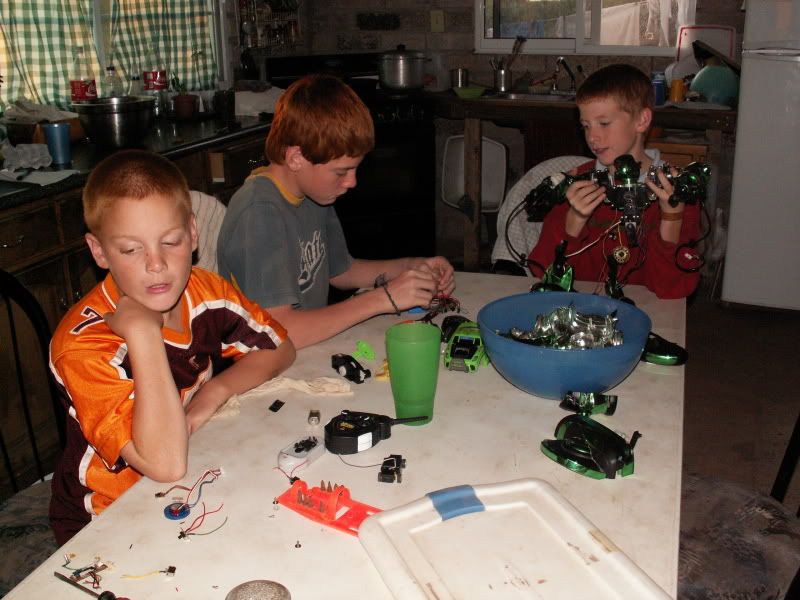 Boys will do as boys will do, no? I don't know if they ever actually made something out of the pieces. I don't think so, I think the fun for them was all in the disassembly of the motors!
This is Caleb's old robot. I don't know if it works or not (I should say worked, it is in pieces upstairs now)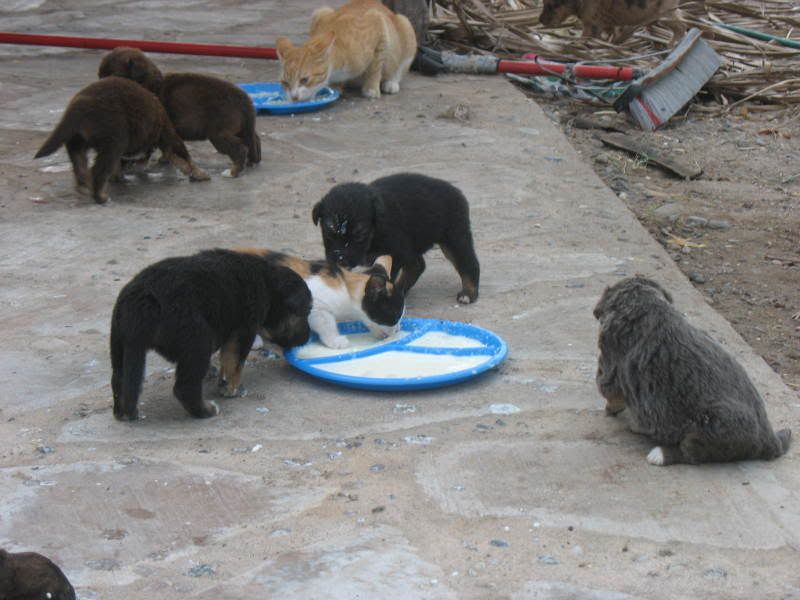 Puppies and kittens!! I love animals! We have gotten rid of all bu three of them now. Can't say I was extremely sorry to see them go, they are a lot of work and I can't stand chewed-up things strew all over the yard.
Caleb and I on one of the rare occasions that I got him to play with me ( :P )!
This was an Agape dinner (potluck) that we had a few weeks ago at our church. To find out more about the
potluck turned water fight
Click
HERE
and read about it on our Family blog.
Thanks for reading about what's going on my side of the world! I would love to hear back from you!
Blessings to all of you!
In Christ~