Hello again everyone! I am glad to be here again. It's been awhile, but God is still good, always has been and will continue to be! Isn't that SUCH a blessed assurance?!?!
This past week has been quite full. It was wonderful, but I must say that it was VERY tiring! Right now I am typing on the computer while literally having to hold me eyes open so that I don't fall face first onto the keys. Some of you might say, "What are you doing typing when you sould be asleep?" but that's just not who I am. If I don't write this now I will be up for an hour laying on my bed composing this post in my head... that's why it's just better to get it out of the way now!
It will probably take me a few days to get you all caught up to the present, but I hope that I will have you all filled in by the end of this week. The funny thing about blogging is that you think that you are getting caught up when, in reality, you are just barely keeping up because things keep happening! That's how I feel right now, but I don't mind. Besides, I don't really want to drop the blog. If I did that then none of you would know what was going on in my little corner of the world! So...
Camera... Lights... Action!
This Friday (the 15th) we had a group of about 30 "jovenes" (youth) come to Las Glorias from the nearby town of Los Mochis. They were here for a little more than a day and, though the focal point of their retreat was to take a time away from "life" to study the Word, we also had a great time hanging out at the beach, swimming in our pool and just getting to know one another.
We (my Dad and those of us involved with the youth at our church) took this opportunity to invite the 8 or 9 "faithful" jovenes from Boca del Rio to stay at our house over the weekend. This was the first time we had done something like this in awhile so everyone was pretty excited!
They say that a picture is worth a thousand words, so let me just post pictures and you guys can imagine all the words that I would say if I was actually telling you the story in person!
We have had a lot of people in our pool in the past, but I think that over the weekend we broke our record!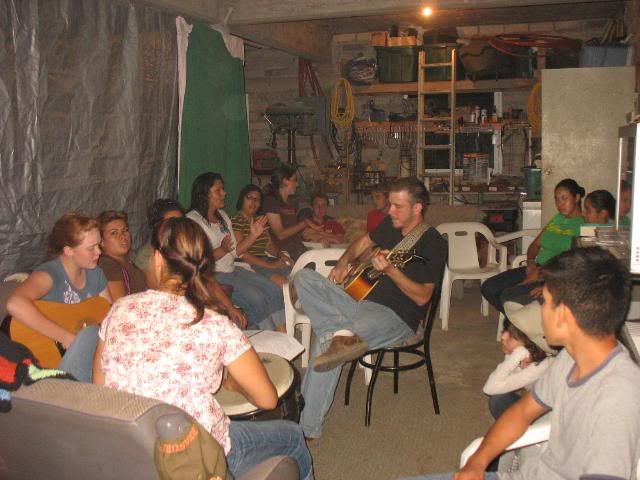 This is one of my favorite things about large groups of Christian teens; we can always get enough people together to have a worship time! The guy who shared the message (Daniel Warne, or Dan) also was an exeptionally gifted guitar player. It was really neat to have him playing with us.

The first night after we had all been down to the beach everyone headed over to our house to prepare the food. After the meal we had a bonfire and toasted mashmellows. I was so glad that God protected us from the mosquitos. As a general rule you wouldn't be able to be outside past 7pm but on Friday it was perfect!

On Friday night everyone left our house around midnight with the intention on being in bed by 1:00am. Of course, not everyone went to bed when they were supposed to!

This was the second part of the message that Dan shared. The message was in three parts of about an hour each. The main point of what Dan shared was the heart and its spiritual significance; namely, living from the heart out. Great insights! If you want to hear more leave me a comment letting me know and I'll email you about it.

Lunch prep!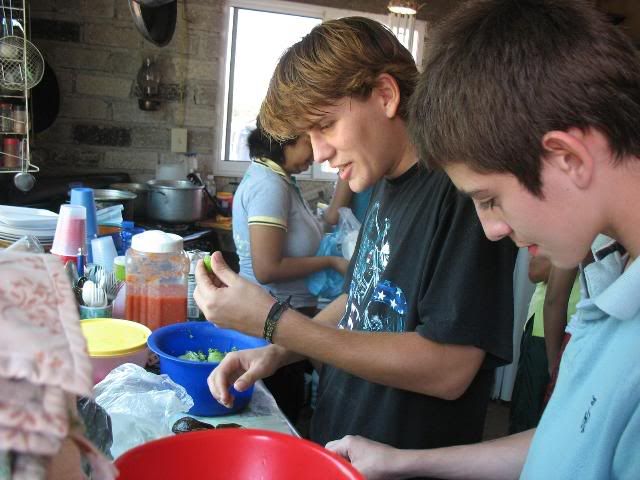 This picture seemed really funny to me. These guys were trying to figure out how to get the seeds out of the limes without squeezing out the juice at the same time! The expressions on their faces was just HILARIOUS! :P

This was at the last part of the message. The guy in this picture is David and he is translating for some of the youth who came who were deaf. They came from a Christian school in Los Mochis dedicated entirely to teaching children who are deaf to be able to communicate. There were six deaf teens who came and they were all very nice. I didn't get to talk with them as much as I would have liked, but it made me REALLY want to learn sign language!

After the conference was over we all headed back to Las Glorias. Since no one really wanted to squeeze into the car for the short trip, several people rode on top! Quite Mexican, if you ask me!
This is a picture of all our youth group plus theirs. We had a fairly huge group!
All in all it was a great day and a half. The group from Los Mochis was really neat and all the kids pitched in to help with the preparation, serving and clean up of all the meals (I REALLY appreciated that!). I don't think that I learned everyone's names, but that is no surprise for me since I truly have a horrible time with learning names, more so in Spanish, though it's easier than when I first got here! Oh well, I suppose one must learn with time!
The group was an interesting mix of Americans who spoke Spanish, Mexicans who spoke English and everything in between. Never having been with a group like that it was a little confusing, but not in a bad way!
Now you are officially caught up to Saturday evening. I will be back very soon (I hope) to tell you all about our trip to the river on Sunday... but not until tomorrow... or maybe later!
Blessings!
Hasta entonces! (see ya)