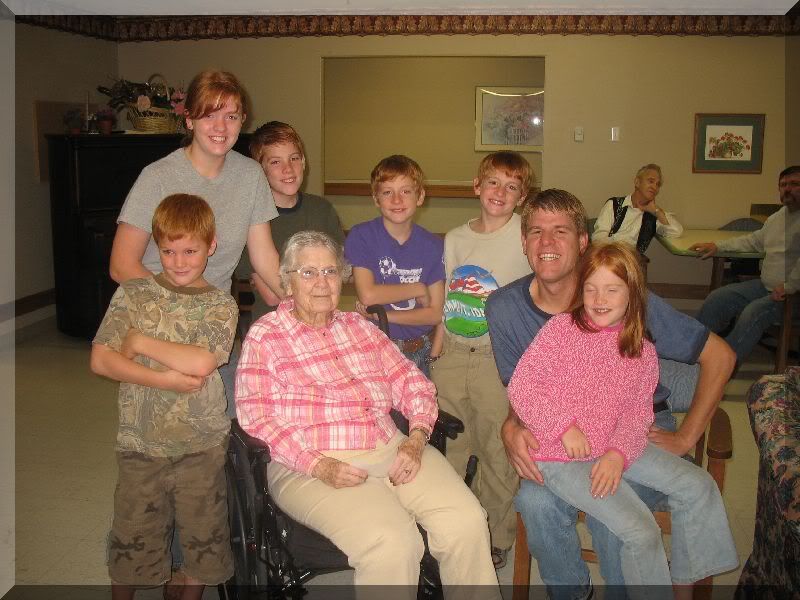 We're all saddened by the passing of Great Grandma Coult, but our tears can be turned to laughter and our sorrow to joy knowing that she is now rejoicing in the presence of our Lord! She lived a long and full life and, though we will miss her, God had decided that it was time for her to join Him in her eternal home. She was a devout Christian, and her devotion and prayer brought many into the family of Christ. She has certainly left a legacy that will not easily be forgotten.
Death is a sad but necessary thing. God did not originally intend death. He created this earth that we might live to praise His name. But through the fall of man and the entrance of sin into the world (Genesis 3) death also entered the world. Now we must cope with the passing of loved ones and dear friends. Some live to become grandparents and great grandparents and others are killed before they even get a chance at life.
"Why," people ask, "would a loving God allow so much death and suffering?" The answer is that He didn't. It was us, through our rebellion and rejection of His mercy. God was compassionate enough, loving enough, to send His one and ONLY son to DIE for US so that we might LIVE (John 3:16). And we blame Him for this mess we call the world? God doesn't want that any should perish but rather that all should come into eternal life (2 Peter 3:9). It is, however, your choice. The one, most important choice you will EVER make.
Be careful how you choose, because that choice you make is not only going to affect you. It will affect your children, your children's children and even your friends. Are you willing to take that chance? Are you willing to let you bitterness or rebellion against God cause someone else to go to hell? So, maybe you don't believe in all that stuff about "heaven and hell", but just because you don't believe doesn't mean it isn't there. Your unbelief won't affect its existence any more than my disbelieving the existence of gravity will cause me to float.
Death is something that we as humans are forced to bear. God doesn't say it will be easy or that following Him will be painless. It's okay to be sad and to mourn, Jesus Himself wept at the death of His good friend Larzarus (John 11:35). But Jesus didn't stop there, He spurred Himself into action. So, rather than letting your grief push everyone away or cause bitterness inside of you, turn it into something positive. Let it overflow in love and God will cause healing, no matter how irreparable the wound may seem.
I write all this along with the news of my Grandma's death because I believe that she would want her death to be more than just a reminder that we are all mortal. More than just sadness at a loved one's passing. If even one person is caused to look at their life and reflect, this article will have served its purpose.
My Grandmother chose to follow Christ, to love and not to hate. For that I am grateful. Grateful knowing that it was through her dedicated prayer that my Dad came to know Christ and to dedicate his life to Him. Through her prayers we ended up here, in Mexico. Isn't it amazing how one person's life can make such a difference when they're willing to deny themselves and follow Jesus to the end?
John 14:1-3

"Let not your heart be troubled if you believe in God believe also in me. I my Father's house are many mansions, if it were not so I would have told you. I go to prepare a place for you, and if I go to prepare a place for you I will come again and receive you to myself that where I am there you may be also"
*Please pray for the other family members that she has left behind. Pray that God would give them the courage and peace. Also for those of the family who do not yet know Christ as their Lord, that God would use this event to draw them closer to Himself. More specific prayers for my Dad as he travels to Oregon to attend the funeral and for us as we will be staying here.*